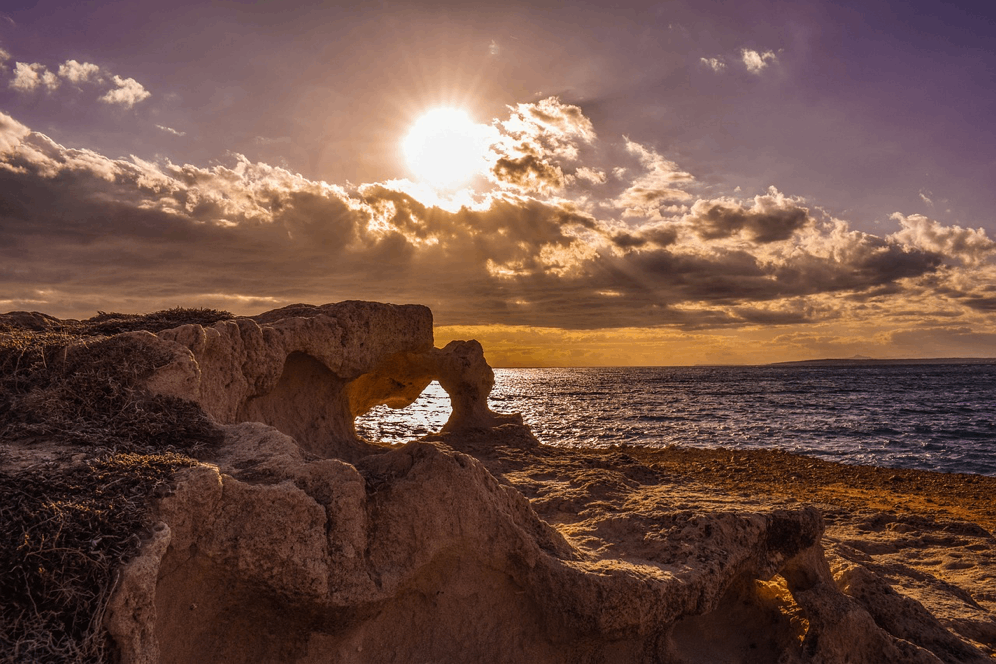 Tombs of the Kings
This Tomb of the Kings is located near Paphos and dates back to an incredible 4th century BC. It's recognised as an UNESCO World Heritage Site and consists of underground tombs. Although labelled as a place 'of the Kings', the chambers were never used by a member of royalty. Instead they were decorated similarly to Egyptian tradition and aligned with the old, traditional concepts that houses for the living should resemble tombs for the dead.
The landmark is now considered a fantastic place for archaeologists as the tombs are filled with frescoed walls and columns that were once the burial site of aristocrats.
Petra tou Romiou
The sea stack, also known as Aphrodite's Rock, is located off the shore along the road between Paphos and Limassol. This landmark is actually one for the old romantics, with the legend stating that the Greek goddess of love, Aphrodite, rose from the sea. It is said that if you perform a ritual around the stone, then you will find 'true love'.
However, there is also another myth that states Digenis Akrit, a warrior legend, threw the stone into the sea. No matter what legend you decide to believe in, the stack is beautiful enough with a tranquility that oozes into the atmosphere around it.
Mount Olympus
This mountain is the highest in Cyprus, standing at a staggering 1953 metres tall! The summit is also known as the Troodos Mountain and is made up of igneous rock. Around the mountains are lots of villages and resorts and the area is especially beautiful in the Winter when it snows.
Kykkos Monastery
The Kykkos Monastery faces North West onto the Troodos Mountains and is on one of the highest points of the island.
The Cypriot Monastery is dedicated to the Virgin Mary. The monastery produces alcoholic drinks such as the traditional spirit Zivania and is one of the wealthiest and well-known among the country. It's a modern take on Cyprus and religion, with most of the building being rebuilt because of a fire back in 1831. The only item that survived was the icon of the Virgin Mary.
Its wealth is shown by many bright murals, decorated porches and valuable artefacts dotted around the religious building. However, the Monastery still houses monks who have dedicated their lives to prayer and is considered one of the most important sites for the Cypriot Orthodox Christian religion.
Paphos Castle
Last, but not least, is Paphos Castle, or Paphos Fort. It's located on the harbour and was originally build as a fortress to protect the port. It's made of large stones and, alike to Tombs of the Kings, is also in the UNESCO list.
Over time, the landmark has had multiple uses, including its period as a prison and its spell as storage space, while still retaining its original, protective purpose.
Photo site/credit https://pixabay.com/en/rock-formation-geology-sea-sky-3078773/