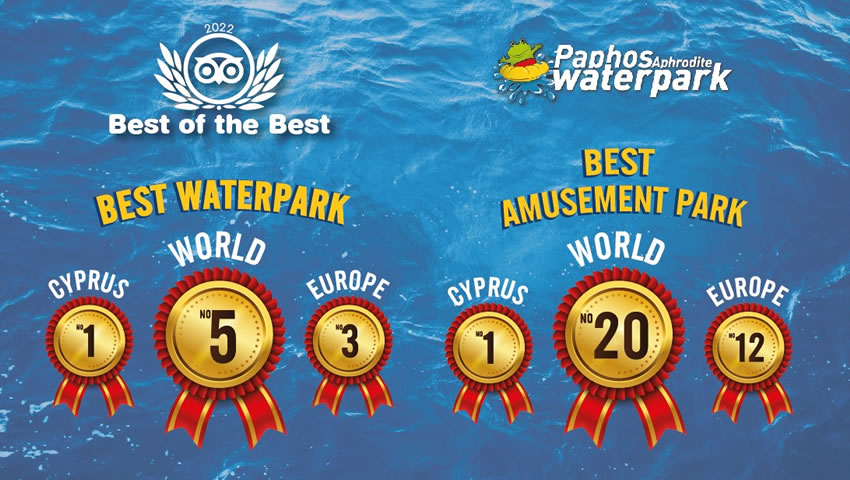 Paphos Aphrodite Waterpark, has recently received the BEST OF THE BEST 2022 award by TripAdvisor!
This award is the highest recognition and is presented annually to the business who are the BEST OF THE BEST on TripAdvisor, who received excellent reviews from travellers and are ranked in the top 1% of attractions worldwide.
Paphos Aphrodite Waterpark is proud to be ranked 1st in CYPRUS,3rd in EUROPE and 5th in the WORLD for Waterpark category and 1st in CYPRUS, 12th in Europe and 20th in the WORLD for Amusement Parks category.
As challenging as the past few years was, Paphos Aphrodite Waterpark persevere by continuing to fascinate visitors.
This recognition has only been accomplished as a result of hard work, continuous upgrades, outstanding customer service and dedication towards a common goal – enable travellers to get the most of their trip. Taking into consideration our guests' feedback, we aspire to contribute to offering the ultimate travel experience as one of the most highly reviewed places and exciting destinations in Europe.
Results can be found Here
World: tripadvisor.com/TravelersChoice-ThingsToDo-cAmusementWaterParks
Europe: tripadvisor.com/TravelersChoice-ThingsToDo-cAmusementWaterParks-g4
Paphos Aphrodite Waterpark offers various activities for families, couples and friends. Our Slides & Rides guarantees the best possible fun for all our visitors.
Featuring various attractions made up of thrill water rides and games aimed at families of all ages and sizes, Paphos Aphrodite Waterpark, a one-of-a-kind naturally landscaped aqua adventure centre has been offering high quality experiences to its visitors.
Situated in Kato Paphos on the coastal road, the waterpark is easily accessible by anyone. This non –stop aquatic thrill features high speed water slides such as the Free Fall, Kamikaze, Twister, and many more. For visitors young and old, the waterpark offers an extreme level of excitement. Apart from the exhilarating aqua ventures that were aforementioned, other highlights include an extensive Lazy River, a Wave Surge Pool and lots of swimming areas. Furthermore, the waterpark has recently been upgraded with new slides such as the Cannon Drop, Nautilus Screw and Aqua Infinity which have made the park more appealing to tourists as it is currently the most visited attraction by tourists in Paphos with over than 150.000 visitors on average per season.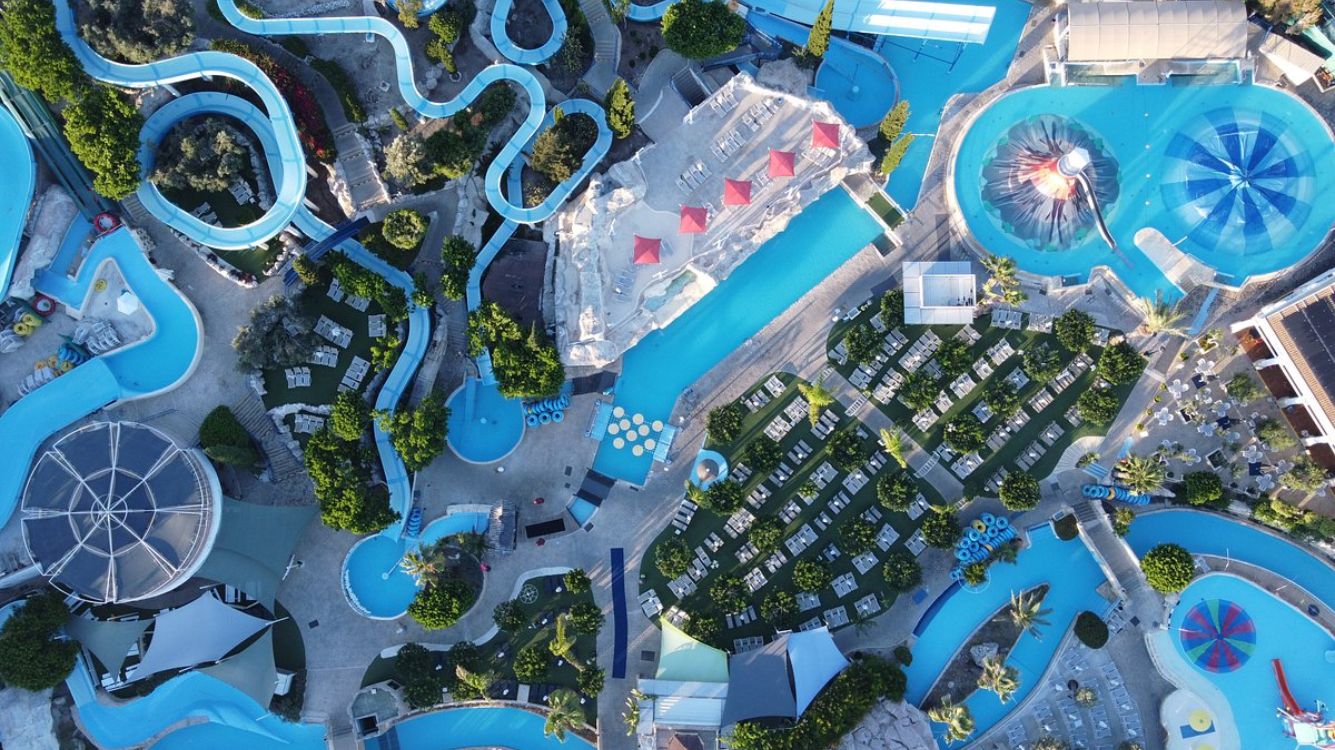 The waterpark boasts a spectacular kid's water-play area with numerous attractions like the Mini Volcano, Splashing Rainforest, Shooting Water, Pirate Ship slide and many more that can offer endless hours of fun.
Throughout the park, there are various food courts for delicious breaks and beverage areas as well as the Phuket Chinese restaurant –all linked by lush, tropical environments that are both immersive and interconnected.
In addition, Paphos Aphrodite Waterpark offers secure lockers, free Wi-Fi, music, Emergency Medical Technicians and Certified Lifeguards trained in aquatic facility safety as well as waterpark safety which is of paramount importance.
The highest level of fun, safety and water hygiene are guaranteed.
Thank you!
About TripAdvisor
TripAdvisor, the world's largest travel platform*, helps 490 million travellers each month** make every trip their best trip. Travelers across the globe use the TripAdvisor site and app to browse more than 760 million reviews and opinions of 8.3 million accommodations, restaurants, experiences, airlines and cruises. Whether planning or on a trip, travellers turn to TripAdvisor to compare low prices on hotels, flights and cruises, book popular tours and attractions, as well as reserve tables at great restaurants. TripAdvisor, the ultimate travel companion, is available in 50 markets and 30 languages.